Thursday, January 23rd, 2014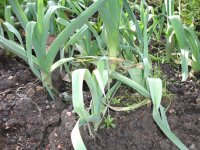 January is usually the coldest  month of the year.  Coming on top of the  heavy rains that fell  just before Christmas this year,  it is well worth taking the time to look over the allotment and prioritise the jobs for the month. Top of the list must be to clean up the plot and dispose of all of the damaged and rotten crops. Don't worry too much about soil preparation for now just concentrate on clearing the way for a February biltz. Weather permitting of course.
 Harvesting
 Continue to harvest brussel sprouts, cabbages, leeks and parsnips (if they haven't been damaged by flood water!).  Check on any vegetables in store and discard any that have gone mouldy or rotten.
Sowing and Planting
 Patience is the watch word. The days are still too short and cold to think of sowing seeds  outdoors  in the open.  A few sowings of onions, lettuce, peas. broad beans, radish and early carrot can be made under protection towards the end of the month . The January sun can push the temperature quite high so give a little air to transplanted lettuce plants on warm days, closing down early in afternoon.
General
Pack some straw or fleece around celery to protect from any damaging frost but remove it on sunny days to let plants breathe. Draw the sod up around the stalks of cabbages and winter cauilflower to just under the first set of leaves. Check over brussel sprouts and broccoli and support them from being blown over in high winds. Take advantage of days when the soil is frozen hard to barrow and stack manure and compost close to where it will be dug in later on.
If you have any plants or seedlings ticking over in cold greenhouse cover them with several layers of newspaper on frosty nights. Rremove the newspaper on warm days. Seeds potatoes will be available from the end of the month. Order your seed potatoes and collect seed trays or wooden tomato trays ready to chit them.  On days when you can't  work on the plot clean the shed, greenhouse, tools and linseed oil any wooden handles check that the watering can and buckets don't leak and that the wheelbarrow doesn't have a flat wheel.
Fruit
Towards the end of the month,  when the weather and soil conditions allow,  plant out soft fruit bushes.  Spray all fruit trees and bushes with garlic winter wash.  Do this on a fine day, do not spray in frosty conditions. It won't hurt to hold the job over to the next month.