Friday, January 23rd, 2015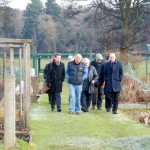 What do a senior politician, four civil servants and an army of gardeners have in common? The answer is: a passion to empower communities and to improve outcomes for ordinary people from all walks of life. This is the main reason why the new Minister for Local Government and Community Empowerment was to be found walking around Inverleith Allotments in Edinburgh on a truly beautiful but very cold day in the middle of January.
By accepting SAGS invitation the Minister was able to observe a working allotment at first hand and SAGS was able to discuss directly with the Minister the implications of the new Community Empowerment Bill for allotment communities across Scotland.
This innovative and wide ranging piece of legislation is set to transform the way in which local authorities provide services and the relationship between people on the ground and their local authorities. Indeed, in many cases, the legislation will open up routes for communities themselves to take ownership and management of local services.
The concept of grassroots involvement and self directed development however is not new to allotment communities across Scotland. Inverleith allotments is only one example of the many successful self-sustaining sites where people from all walks of life and circumstances get together to solve problems, feed their families and care for the soil. The current legislation covering allotments has existed for over 65 years and although it has been unable to keep up with demand from the growing number of people wishing to become plot holders it has not caused undue burdens. We trust that any new legislation brought forward, either as part of this Bill or at a later stage, will preserve and further extend existing protections. Measures to retain the definition of a traditional allotment and also measures to facilitate the development of further sites will be the key to protecting and empowering the traditional allotment community and the many people who identify with and aspire to join it.