Friday, January 29th, 2016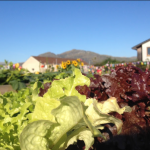 The Climate Challenge Fund is once again open for applications.
The Scottish Government has made £10.3 million of funding available for community-led organisations to run one year projects that tackle climate change. Grants of up to £150,000 are available per project. The funding is for one year projects with a start date of April 1 2016 and a completion date of March 31 2017.  The deadline for applications is February 19 2016.  The development of many of Scotland's new allotment sites was made possible by grants from this fund.  So it has a record of being well worth the effort for a new allotment group as well as being a source of funds for upgrading existing allotment sites.
As long ago as 2009 six allotment/community garden related projects were kick started by this fund.  Since then there has been a steady stream of successful allotment applicants, one of the most recent being  Killandean Allotment Association in West Lothian, where summer of 2015 was the first full growing season.
To find out how to apply see the Climate Challenge web site.  If you feel uncertain about the suitability of your project, or the amount of work involved, do get in touch with SAGS.  We have many members who have succeeded with the scheme and can offer advice.