Friday, September 16th, 2016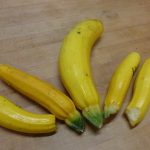 At the moment I am having to work hard to keep on top of my golden zucchini glut. If they are not picked with great regularity then the odd one, (the middle zucchini in the picture is an example),  starts to grow into a marrow and make seeds that need to be removed before cooking.  I have been passing some on to a neighbour who rewards me with slices of a delicious zucchini cake.  Same idea as a carrot cake.
I like to cook my zucchini before freezing them and have found that any of the stuffed aubergine recipes found in middle eastern cookery books work brilliantly with the oversized zucchini.  Even simpler, you can cut one in half lengthwise, scoop out the seeds, fill the space with a sausage meat stuffing and bake with a tomato sauce.  The result is a nice simple supper and it can be frozen in a plastic container for later use.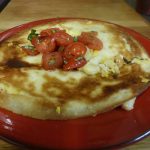 The other day there was a recipe in the Guardian for butternut squash quesadilla.  A quesadilla is basically a fried tortilla sandwich.  So you heat some oil in a frying pan, put a tortilla into the pan, spread a reasonable amount of filling on top of it, then cover with another tortilla.  Fry till the bottom tortilla is crisp and brown, then flip the 'sandwich' over (this is tricky, the filling tries to escape!) and continue frying until the second tortilla is also brown.   I decided to experiment with using my oversized zucchini instead of butternut squash.  The result was a great success, so here is the recipe I used:
Deseed (but don't peel) and grate two oversized zucchini (the Guardian suggested 1/4 butternut squash).  Fry fairly gently in oil with a small chopped up red chilli and a heaped tablespoon of chopped up black olives till the grated zucchini is soft and also you have driven off some of the water that comes off it.  Move to a bowl.   Add salt, pepper, a smallish tin of white beans (haricot, cannelini…) the zest and juice of a lemon, about 50gm grated blue stilton (the Guardian mentioned feta but I didn't have any!) and mash the lot together fairly roughly.  This is the filling to be used in the cooking method from the paragraph above.
This quantity made 3 quesadillas. I served them with a tomato 'salsa' created by chopping up cherry tomatoes reasonable small with a good handful of basil and adding an olive oil and balsamic vinegar dressing.  The recipe fed 3 people very adequately. I have not tried to freeze a quesadilla but I imagine it would work.
It would be great to hear from others about their recipes for coping with their gluts. Beans, spinach anyone?