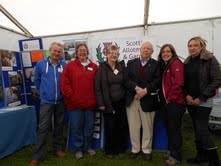 SAGS is part of Scottish Natural Heritage's Garden for Life Forum which promotes sustainable gardening.  As part of what we do, the Forum's members have a Living Garden area at the Gardening Scotland Show near Edinburgh. Our demonstration garden was created by students of Elmwood College. This year we combined with the Edible Gardening Project at the Edinburgh Botanics and the Federa tion of City Farms and Community Gardens in a really successful double-sized stand!
It is a real pleasure to meet hundreds of people who call in and talk about their allotments and gardening generally. We were asked a wide range of questions which we did our best to answer.  We also learned about new projects around Scotland and, finally, we played Garden Organics' Compost Game with visiting children (and some adults!).
Our thanks to SAGS members who came forward to look after the stand – I can only hope they've warmed up by now!!! And thanks to Mandy, our Vice-President, who provided delicious home-baking to sustain us throughout the 3 days of the Show.