April is the  'lets go for it' month on the alloment.  But proceed with caution.  With luck  we will all be feeling the benefit of  lengthening days and warm sunshine.  Even so there can be a price to pay, with the threat of hard night frosts never far away. Hold back and wait a day or two rather take a risk.  It isn't so much the loss of seedlings or young plants that does the damage but the loss of your precious time that you will never get back.  The allotment will always catch up eventually and reward your patience with a bumper harvest.
Sowing and planting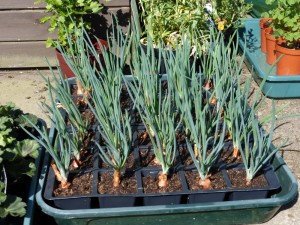 Continue  planting out seed pototoes.  Aim to complete the job by the end of April.  Be prepared to cover the emerging shoots of first earlies with soil if a frost is forecast.  Complete the planting of onion sets and carry on making successional sowing of beetroot, carrots, parsnips, lettuce, spinach, spring onions, kohl rahi, radish, turnips, early peas, swiss chard.
Prepare a seed bed and sow the seed leeks and summer cabbage.  Plant out celeriac grown on earlier.  Sow under glass, in pots and trays filled with fresh seed compost, the seed of runner beans, sweetcorn, courgettes, pumpkin, squashes, outdoor/ridge cucumber.
Now is the time to plant up a new asparagus bed.  Remember it will take two more years to establish before producing succulent shoots.
General
Early sowings of brussel sprouts will need thinning  this month and the soil for next months transplanting of sweetcorn, courgettes, marrows,pumpkins and outdoor/ ridge cucumbers will need preparing. Put up the runner beans poles and start to support the growing peas with brushwood or netting.
Prepare seed beds for outdoor sowing of main crop vegetables next month.
Pest and diseases
Check over top and soft fruit for the first signs of aphids and take appropriate action.  Spray the plants with soapy water (diluted washing up liquid) or squash the flies with your thumb and finger. You can buy a fatty acid soap to spray on the plants.  Protect any early strawberries with netting to keep birds and squirrels out.